Hubungan status gizi terhadap kejadian pre menstrual syndrome pada remaja putri di SMA Negeri 4 Palu
Idris

Enggar

Akademi Kebidanan Palu Sulawesi Tengah
Abstract
Background: Several changes can easily take place in puberty, such as physical, cognitive, and psychosocial growth or actions. The period stage occurs in adolescence, with peak growth. Peak growth can impact changes in body structure, rapid weight, and bone life growth and physical activity, thereby influencing adolescent nutritional needs.
Objective: The purpose of this study is to find out and analyze the Relationship of Nutritional Status with the incidence of Premenstrual Syndrome In Young Women in SMA country 4 Palu
Methods: The study used a cross-sectional study approach, a sample used by 97 respondents. Sampling techniques with purposive sampling. Nutritional status is measured using BMI (Body Time Index) by measuring the respondent's Height and Weight. The premenstrual syndrome was measured using questionnaires by looking at emotional and behavioral physical symptoms felt at 7-10 days before menstruation. Analyze data using a chi-square test
Results: of the 97 young women showed that the results of the chi-square statistical test with an α= 0.05 were obtained p-value of 0.00 <0.05. Based on the results in this study, the nutritional status in young women affects premenstrual syndrome caused by excess carbohydrates in the body where young women with 29.9% obese nutrition staus and 10.3% obesity nutritional status cause young women to experience PMS.
Conclusion: There is a link between nutritional status to a premenstrual syndrome in young women in SMA country 4 Palu.
References
Department of Health and Human Service. Top Questions About Your Menstrual Cycle. Off. woman Heal. 1–2 (2017).
World Health Organization Task Force on Adolescent Reproductive Health. World Health Organization multicenter study on menstrual and ovulatory patterns in adolescent girls. II. Longitudinal study of menstrual patterns in the early postmenarcheal period, duration of bleeding episodes and menstrual cycles. J. Adolesc. Heal. Care (1986) doi:10.1016/S0197-0070(86)80015-8.
Kementerian Kesehatan RI. Infodatin Reproduksi Remaja-Ed.Pdf. Situasi Kesehatan Reproduksi Remaja (2017).
Enggar. Biologi Dasar Manusia dan Pengantar Asuhan Kebidanan. (Pustaka Panasea, 2018).
Gnanasambanthan, S. & Datta, S. Premenstrual syndrome. Obstetrics, Gynaecology and Reproductive Medicine (2019) doi:10.1016/j.ogrm.2019.06.003.
Darabi, F., Rasaie, N. & Jafarirad, S. The Relationship Between Premenstrual Syndrome and Food Patterns in University Student Girls. Jentashapir J. Heal. Res. 5, (2014).
Link, M. Premenstrual syndrome (PMS). Encycl. Endocr. Dis. 2, 432–435 (2018).
Hussein Shehadeh, J. & Hamdan-Mansour, A. M. Prevalence and association of premenstrual syndrome and premenstrual dysphoric disorder with academic performance among female university students. Perspect. Psychiatr. Care (2018) doi:10.1111/ppc.12219.
Sholihah, D. M. the Correlation Between Exercise Activity, Genetic Background, Fast Food Consumption, and Dysmenorrhea. J. Berk. Epidemiol. 7, 129 (2019).
Haq, A. B. & Murbawani, E. A. STATUS GIZI, ASUPAN MAKAN REMAJA AKHIR YANG BERPROFESI SEBAGAI MODEL. J. Nutr. Coll. (2014) doi:10.14710/jnc.v3i4.6841.
Irdiana, W. & Nindya, T. S. Hubungan Kebiasaan Sarapan dan Asupan Zat Gizi dengan Status Gizi Siswi SMAN 3 Surabaya. Amerta Nutr. 1, 227 (2017).
Novita, R. Hubungan Status Gizi dengan Gangguan Menstruasi pada Remaja Putri di SMA Al-Azhar Surabaya. Amerta Nutr. (2018) doi:10.20473/amnt.v2i2.2018.172-181.
Estiani, K. & Nindya, T. S. HUBUNGAN STATUS GIZI DAN ASUPAN MAGNESIUM DENGAN KEJADIAN PREMENSTRUAL SYNDROME (PMS) PADA REMAJA PUTRI. Media Gizi Indones. (2018) doi:10.20473/mgi.v13i1.20-26.
Pane, D. N., Fikri, M. EL & Ritonga, H. M. 済無No Title No Title. J. Chem. Inf. Model. 53, 1689–1699 (2018).
Dars, S., Sayed, K. & Yousufzai, Z. Relationship of menstrual irregularities to BMI and nutritional status in adolescent girls. Pakistan J. Med. Sci. 30, 140–144 (2014).
Menstruasi, S., Smpn, D. I., Yumaeroh, F. & Susanti, D. PENGARUH PENDIDIKAN KESEHATAN DENGAN MEDIA VIDEO TERHADAP TINGKAT PENGETAHUAN REMAJA TENTANG PERSONAL HYGIENE THE INFLUENCE OF HEALTH EDUCATION THROUGH VIDEO TOWARD THE ADOLESCENT ' S KNOWLEDGE LEVEL ON PERSONAL HYGIENE DURING MENSTRUATION PERIOD IN SMPN . 8, 203–209 (2019).
Kroll-Desrosiers, A. R. et al. Recreational physical activity and premenstrual syndrome in young adult women: A cross-sectional study. PLoS One 12, 1–13 (2017).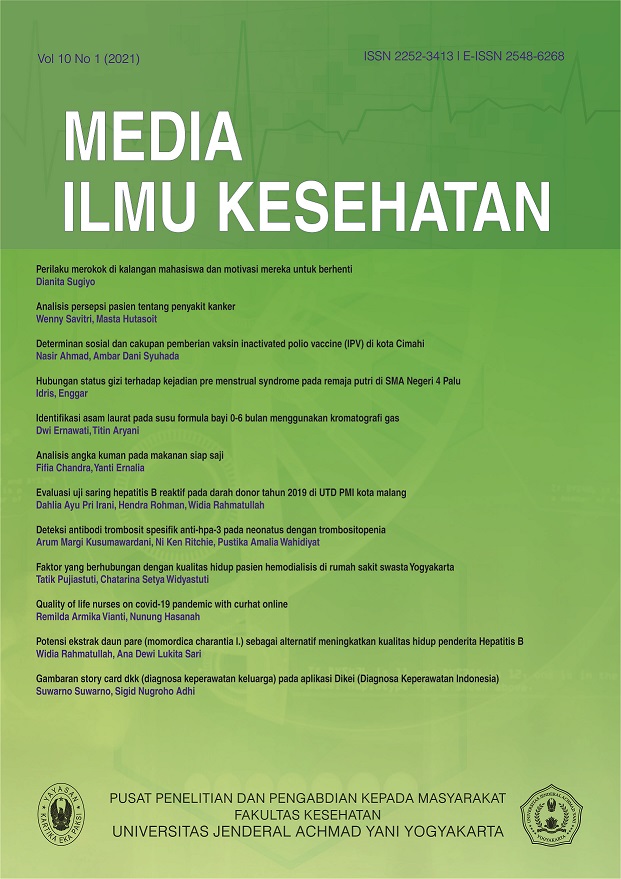 How to Cite
1.
Idris, Enggar. Hubungan status gizi terhadap kejadian pre menstrual syndrome pada remaja putri di SMA Negeri 4 Palu . Media ilmu kesehatan [Internet]. 2021May6 [cited 2023Sep.22];10(1):22-8. Available from: https://ejournal.unjaya.ac.id/index.php/mik/article/view/521
Articles received and published by the Media Ilmu Kesehatan are by the publication, the copyright of the article is fully transferred to the Media Ilmu Kesehatan. All operational forms such as printing, publication, and distribution of hard file journals are carried out by the Media Ilmu Kesehatan. Articles that have finished the review process and have been declared accepted by the journal manager or editor will be asked to fill out a statement of submission of copyright by the journal secretary to the main author or correspondent author. The statement of transfer of copyright is signed with a seal and sent via email to journalmik2018@gmail.com and contacted the admin of the journal to be followed up on archiving. Journal managers and editors have the right to edit the manuscript according to the provisions of the writing rules in the Media Ilmu Kesehatan.
Articles that have been declared accepted either online through the author's account on the OJS website https://ejournal.unjaya.ac.id/index.php/mik or a letter of receipt of the article (LOA), as well as those that have been published on OJS are not allowed to be published in other journals, or proceedings. The number of authors with more than one and as the main author or designated as the correspondent writer must have coordinated with members of the research team. The order of the authors submitted in the article as the author of one, two, three and so on cannot be changed when the article is published unless an error occurs in the technical operation of the journal.