FAKTOR-FAKTOR YANG MEMENGARUHI KEBERHASILAN BELAJAR MAHASISWA PADA MODEL PEMBELAJARAN STUDENT CENTERED LEARNING DI STIKES JENDERAL ACHMAD YANI YOGYAKARTA
Rahayu Iskandar

Deby Zulkarnain Rahadian Syah

Program Studi Keperawatan (S1) Fakultas Kesehatan Universitas Jenderal Achmad Yani Yogyakarta, Jl.Brawijaya Ring Road Barat Ambarketawang Gamping Sleman Yogyakarta, (0274)4342000, Indonesia.
Abstract
Background: Learning is an effort to obtain intelligence or knowledge, changing behavior or responses caused by experience. There are many factors that influence the success of learning. Two main factors that affect the success of one's learning are the factor of the internal (internal factors) and other factors that come from outside the individual (external factors). External elements (environmental factors and instrumental factors) and internal elements (physiological factors and psychological factors) also play a role in influencing learning processes and outcomes.Objective: To identify the factors that influence the success of student learning on SCL model in Stikes Jenderal Achmad Yani Yogyakarta.Methods: Research descriptive correlation with cross sectional approach. The population in this study were all students of Stikes Jenderal Achmad Yani Yogyakarta who obtained the SCL model. Data retrieval method used simple random sampling.Results: There is a relation between student's attention and learning achievement (P value = 0,000), there is correlation between fatigue with learning achievement (Pvalue = 0,000). There is no relation between family factor and learning achievement (Pvalue = 0,300), no correlation between school factor and achievement (Pvalue = 0,130), and no relation between environmental factor and academic achievement (Pvalue = 0,476)Conclusion: Students' attention in learning influences learning achievement, with positive relationship direction (r = 0,814), where each addition of student's attention for 1 hour will improve student's achievement as much as 2.21 points.
Keyword: SCL model, learning.
Downloads
Download data is not yet available.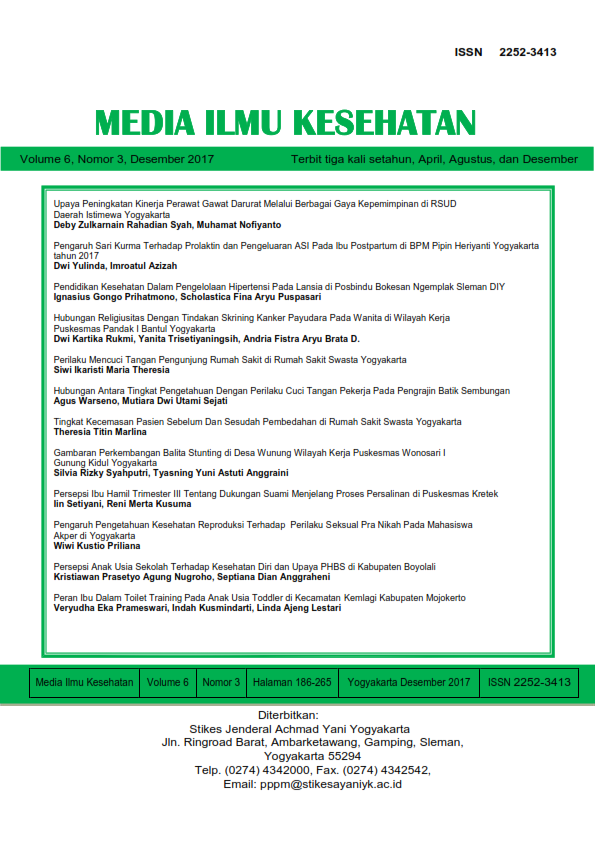 How to Cite
1.
Iskandar R, Syah D. FAKTOR-FAKTOR YANG MEMENGARUHI KEBERHASILAN BELAJAR MAHASISWA PADA MODEL PEMBELAJARAN STUDENT CENTERED LEARNING DI STIKES JENDERAL ACHMAD YANI YOGYAKARTA [Internet]. Media Ilmu Kesehatan [Internet]. 30Apr.2018 [cited 20Jun.2019];7(1):34-2. Available from: http://ejournal.unjaya.ac.id/index.php/mik/article/view/263