EFEKTIVITAS PEMBERIAN PISANG AMBON DAN VITAMIN B UNTUK MENURUNKAN HIPEREMESIS GRAVIDARUM DI BPM ENDAH BEKTI
Elvika Fit Ari Shanti

Liberty Barokah

Program Studi Kebidanan (D3), Fakultas Kesehatan, Universitas Jenderal Achmad Yani Yogyakarta, Kampus 2 Jl. Brawijaya Ring Road Barat, Ambarketawang, Gamping, Sleman, D.I.Yogyakarta 55294, Indonesia

Budi Rahayu

Program Studi Kebidanan (D3), Fakultas Kesehatan, Universitas Jenderal Achmad Yani Yogyakarta, Kampus 2 Jl. Brawijaya Ring Road Barat, Ambarketawang, Gamping, Sleman, D.I.Yogyakarta 55294, Indonesia
Abstract
Background: Endocrine system changes during pregnancy are important to keep the pregnancy, fetal growth and post partum recovery. Around 50-90% of pregnant women experience vomit and nausea. To solve those problems, 'pisang ambon' (Musa paradisiacal) consumption is one of choices because of its flavonoid and vitamin B6 which can overcome vomit and nausea in pregnancy.
Objective: The aim of this research was to identify the effectiveness between pisang ambon (Musa paradisiacal) consumption and vitamin B6 to reduce hyperemesis gravidarum in BPM Endah Bekti.
Methods: A quasy experimental design with two-group posttest only was assigned to 20 pregnant women on their first trimester. First ten sample was given vitamin B6 and the other ten sample were given vitamin B6 plus pisang ambon. Data were then analyzed using two independent mean difference test.
Results: The result shows that in vitamin B6 consumption for hyperemesis gravidarum in 10% pregnant women were in the effective category. While in the pisang ambon consumption shows 100% of pregnant women are in the effective category.
Conclusion: There is difference in effectiveness between vitamin B6 and pisang ambon consumption to overcome hyperemesis gravidarum (p=0,003<α).
Keywords: Hiperemesis gravidarum, vitamin B6, Pisang ambon
Downloads
Download data is not yet available.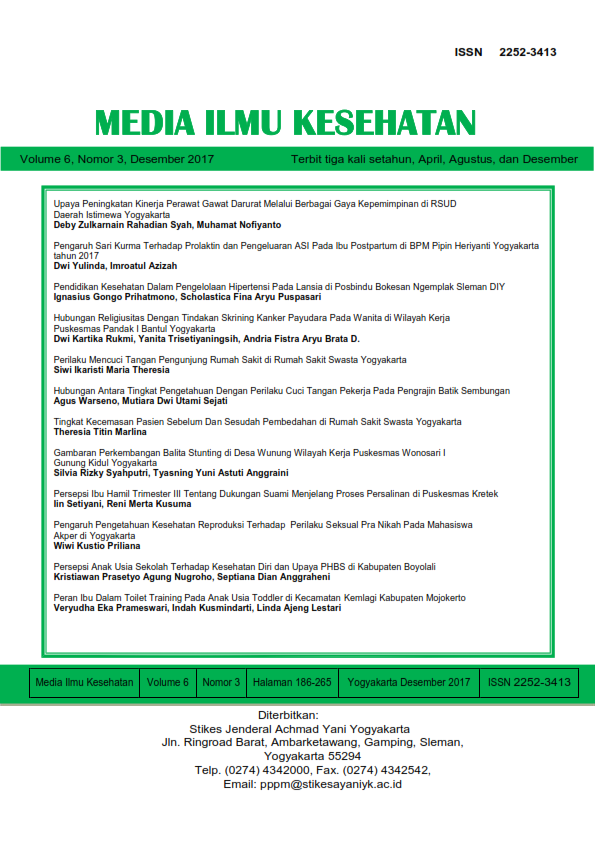 How to Cite
1.
Shanti E, Barokah L, Rahayu B. EFEKTIVITAS PEMBERIAN PISANG AMBON DAN VITAMIN B UNTUK MENURUNKAN HIPEREMESIS GRAVIDARUM DI BPM ENDAH BEKTI [Internet]. Media Ilmu Kesehatan [Internet]. 30Apr.2018 [cited 22May2019];7(1):17-1. Available from: http://ejournal.unjaya.ac.id/index.php/mik/article/view/259