Hubungan kepuasan kerja dengan work engagement pada karyawan PT. KI Daerah Istimewa Yogyakarta
Dwi Saputra

Universitas Jenderal Achmad Yani Yogyakarta

Dian Juliarti Bantam

Universitas Jend. Achmad Yani, Yogyakarta
Keywords:
Job satisfaction, Work engagement, Employees
Abstract
The company has components in supporting productivity, human resources are an important component to develop the company. Employees having work engagement can provide inherent energy and attention and give their best to their work. One of the factors of work engagement is job resources related to job satisfaction, job satisfaction has a positive relationship with work engagement. Employees show a positive level of feelings for the work done. The purpose of this study is to determine the relationship between job satisfaction and work engagement in employees of PT. KI Special Region of Yogyakarta. Respondents from this study were company employees with male and female genders and already had the status of permanent employees. This study uses a quantitative approach with data collection tools using the UWES-9 scale (Utrecht Work Engagement Scale) developed by Bakker and Schaufeli, while the second scale uses JSS (Job Satisfaction Survey) developed by Spector. The participating subjects numbered 50 employees. Data analysis using pearson's product moment. The results of the study showed a positive relationship between job satisfaction and work engagement in employees with r = 0.715 and a significance value of p = 0.00 (p<0.05), so it can be said that the hypothesis in this study was accepted.
References
Abraham, S. (2102). Job Satisfaction as an Antecedent to Employee Engagement. SIES Journal of Management, 8((2)), 27–36.
Azwar, S. (2012). Penyusunan Skala Psikologi. Yogyakarta: Pustaka Pelajar.
Azwar, S. (2019). Dasar-Dasar Psikometrika. Yogyakarta: Pustaka Pelajar.
Bantam, D, J. (2022). Perbedaan Work Engagement antara Pegawai Negeri Sipil, Karyawan Swasta, Tentara Nasional Indonesia dan Karyawan di Bawah Yayasan Militer. Jurnal Penelitian & Pengukuran Psikologi, 11(01), 3-11. https://doi.org/10.21009/JPPP.111
Bakker, A.B., & Leiter, M.P. (2010). Work Engagement ahandbook of essential theory and research. New York: Psychology Press. https://doi.org/10.4324/9780203853047
Batool, T. (2014) The Dimensions of Psychological Capital and Their Relationship with Employee Engagement. GRIN Verlag.
Bertolomeus, R. P., & Putrianti, F. G. (2019). Kepuasan Kerja dan Work Engagement pada Pegawai Universitas "X." JURNAL SPIRITS, 9(1), 86-97. https://doi.org/10.30738/spirits.v9i1.6345
Ghozali, I. (2018). Aplikasi Analisis Multivariate dengan Program IBM SPSS 25. Semarang: Badan Penerbit Universitas Diponegoro.
Hadi, S. (2015). Statistika. Yogyakarta: Pustaka Pelajar.
Halim, L. (2013). Benefit & Compensation Internasional: Total Remuneration and Pension Investment. Towers Watson. London: Pension Publications Limited.
Kristiana, I. F., Fajrianthi, F., & Purwono, U. (2019). Analisis Rasch Dalam Utrecht Work Engagement Scale-9 (Uwes-9) Versi Bahasa Indonesia. Jurnal Psikologi, 17(2), 204-217. https://doi.org/10.14710/jp.17.2.204-217
Kurniawati, I. D. (2014). Masa kerja dengan job engagement pada karyawan. Implementation Science, 02(02), 311-324. https://doi.org/10.22219/jipt.v2i2.2005
Kurniasih, E.N, & Andayani E. (2013), Hubungan antara Keterikatan Kerja dan Kepuasan Kerja Karyawan PT. PG Asset Management. Ilmu Administrasi Niaga, Fakultas Ilmu Sosial dan Ilmu Politik. Skripsi. Jakarta: Universitas Indonesia.
Muharsih, L. (2017). Analisis Kepuasan Kerja Pada Karyawan Pt. Ids Marketing Indonesia. Psychopedia Jurnal Psikologi Universitas Buana Perjuangan Karawang, 2(1), 3-8. https://doi.org/10.36805/psikologi.v2i1.698
Mulyati, R. (2020). Kebermaknaan Kerja dan Keterikatan Kerja: Sebuah Tinjauan Metaanalisis. Psikologika: Jurnal Pemikiran Dan Penelitian Psikologi, 25(1), 29-44. https://doi.org/10.20885/psikologika.vol25.iss1.art3
Noviyanti, Y., Lubis, R., & Hardjo, S. (2019). Hubungan Gaya KepemimpinandanKualitas Kehidupan Kerja Dengan Kepuasan Kerja Pegawai. Tabularasa: Jurnal Ilmiah Magister Psikologi, 1(2) 96-104. https://doi.org/10.31289/tabularasa.v1i2.264
Nugraha, M. B. C. (2018). Hubungan antara Dukungan Pasangan dan Work Engagement pada Karyawan PT. Pusri Palembang. In Program Studi Psikologi.
Nugraha, S, J., Banani, A., & Anggraeni, A, I. (2018). Pengaruh Job Demands dan Job Resouerces Terhadap Job Satisfaction. Jurnal Ekonomi Bisnis dan Akuntasi, 20(03), 1-16.
Pangestu, A, A., & Rahardjo, M. (2014). Pengaruh Kepuasan Kerja Dan Komitmen Organisasional Terhadap Kinerja Pegawai (Studi Pada BNI KCU UNDIP Semarang). Journal Of Management, 3(3). 1-12.
Pri, R., & Zamralita, Z. (2018). Gambaran Work Engagement Pada Karyawan Di Pt Eg (Manufacturing Industry). Jurnal Muara Ilmu Sosial, Humaniora, Dan Seni, 1(2), 295-303. https://doi.org/10.24912/jmishumsen.v1i2.981
Riandana, Y. R., & Noviati, N. P. (2014). Persepsi Terhadap Asertivitas Pimpinan Dan Keterikatan Kerja Karyawan. Psikologika: Jurnal Pemikiran Dan Penelitian Psikologi, 19(2), 111-120. https://doi.org/10.20885/psikologika.vol19.iss2.art2
Rindyantika, A., & Safitri, N. (2014). Analisis Kepuasan Kerja Karyawan Berdasarkan Job Satisfaction Survey (Studi Pada Karyawan Tetap Kantor Pusat PT Airindo Sakti). Fisip Ui.
Singh, S., Kaur, P., & Rochwani, R. (2013). Patient satisfaction levels in atertiary care medical college hospital in Punjab, North India. Community Medicine, 1(4), 172–182.
Sudarma, K. (2012). Mencapai Sumber Daya Manusia Unggul (Analisis Kinerja dan Kualitas Pelayanan). Jurnal Dinamika Manajemen, 3(1), 76-83.
Sugiyono. (2018). Metode Penelitian Kuantitatif Kualitatif dan R&D. Bandung: Alfabeta.
Tentama, F. (2015). Peran Kepuasan Kerja Terhadap Kinerja Pada Guru Pegawai Negeri Sipil (PNS) di Yogyakarta. Jurnal Psikologi Undip, 14(1), 1–8. https://doi.org/10.14710/jpu.14.1.1-8
Wulandari, S., Nurtjahjanti, H., & Putra, N. A. (2013). Hubungan Antara Persepsi Terhadap Gaya Kepemimpinan Transformasional Dengan Work Engagement Pada Karyawan Pt. Dua Kelini Pati. Jurnal Empati, 2(3), 526–535.
Yakup, Y. (2017). Pengaruh Keterlibatan Kerja, Budaya Organisasi dan Motivasi Kerja terhadap Kepuasan Kerja Pegawai. Perisai : Islamic Banking and Finance Journal, 1(3), 273–290. https://doi.org/10.21070/perisai.v1i3.1112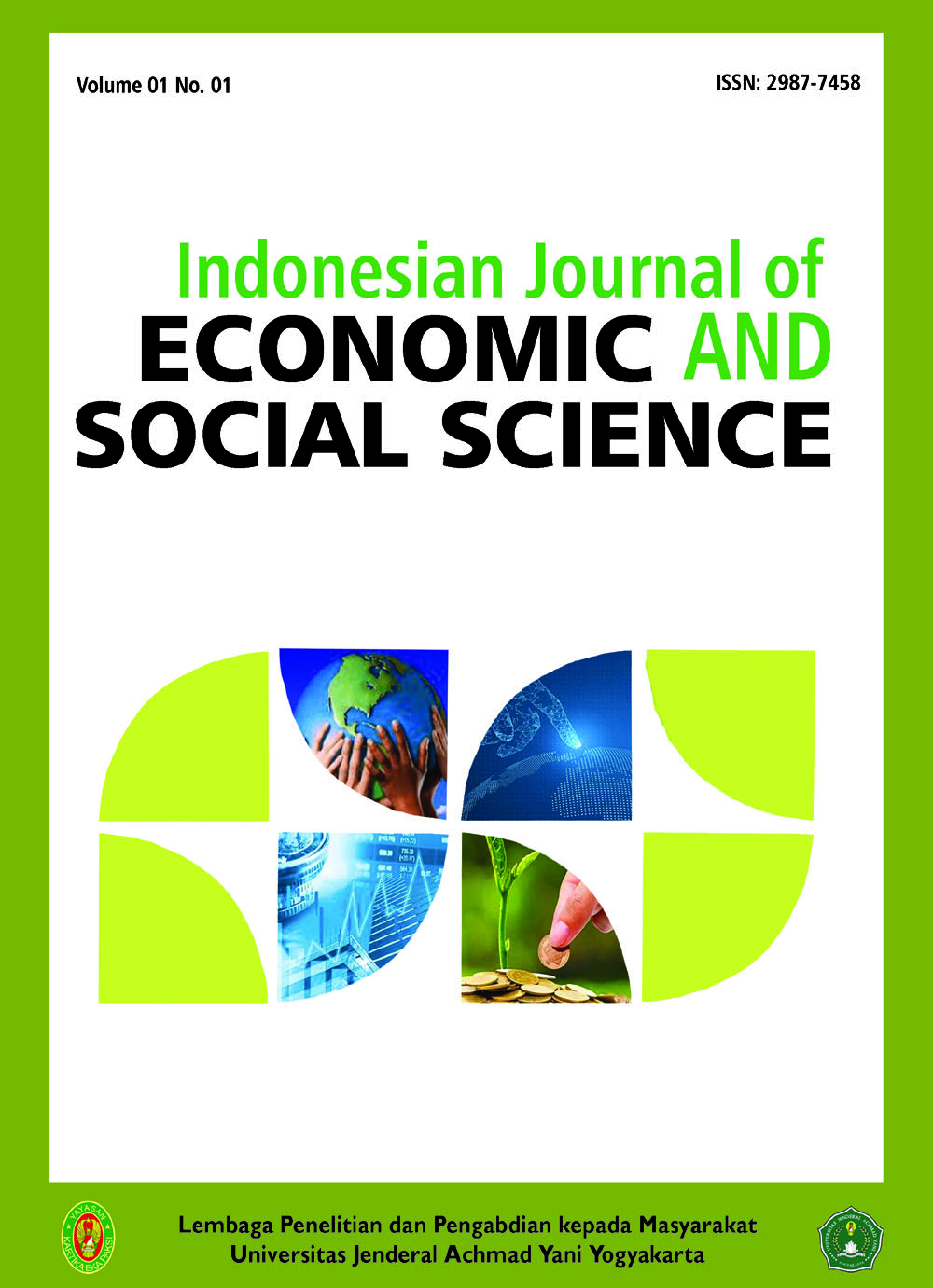 Copyright (c) 2023 INDONESIAN JOURNAL OF ECONOMIC AND SOCIAL SCIENCE
This work is licensed under a Creative Commons Attribution-ShareAlike 4.0 International License.