INISIASI MENYUSU DINI MENJAGA KESTABILAN SUHU PADA BAYI BARU LAHIR
Nuli Nuryanti Zulala

Mei Neni Sitaresmi

Departemen Ilmu Kedokteran Anak, Fakultas Kedokteran, Kesehatan Masyarakat dan Keperawatan Universitas Gadjah Mada Jl. Farmako Sekip Utara Yogyakarta 55281, Indonesia

Sulistyaningsih Sulistyaningsih

Prodi Kebidanan Diploma III Fakultas Ilmu Kesehatan, Universitas 'Aisyiyah Yogyakarta Jl. Ring Road Barat No 63 Mlangi Nogotirto Gamping Sleman Yogyakarta 55292, Indonesia
Abstract
Background: Hypothermia contributes 6.3% to neonatal mortality. Interventions to keep newborns warm can reduce neonatal mortality by 18-42%. Early Breastfeeding Initiation (EBI) is a simple intervention that reduces the risk of neonatal death.
Objective: The aim of this study  to determine the difference of axillary temperature of newborn between improper EBI group and proper EBI group for 24 hours.
Methods: This prospective cohort study was conducted at Aisyiyah Muntilan Hospital. Sixty-two healthy newborns from healthy mothers born in November 2016 who meet the inclusion and exclusion criteria. Subjects were grouped in improper EBI groups (n=32) and proper EBI groups (n=32). Axila temperature measurements were performed at 1st minute, 30th minute, 60th minute, 6th hour, 12th hour, 24th hour.
Results: The result of the hypotermic occurrence is more happened on improper EBI than proper EBI. EBI is able to prevent hypothermia during the first 24 hours of newborn life
Conclussions: Infants with proper EBI have a lower risk of hypothermia.
Downloads
Download data is not yet available.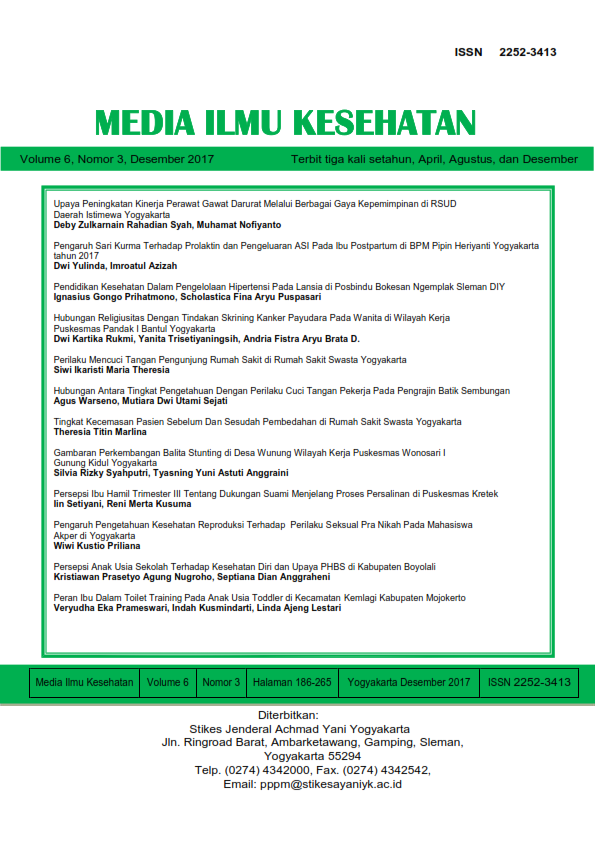 How to Cite
1.
Zulala N, Sitaresmi M, Sulistyaningsih S. INISIASI MENYUSU DINI MENJAGA KESTABILAN SUHU PADA BAYI BARU LAHIR [Internet]. Media Ilmu Kesehatan [Internet]. 30Apr.2018 [cited 20Jun.2019];7(1):51-9. Available from: http://ejournal.unjaya.ac.id/index.php/mik/article/view/267