GAMBARAN STIGMA DIRI KLIEN TUBERKULOSIS PARU (TB PARU) YANG MENJALANI PENGOBATAN DI PUSKESMAS MALINGPING
Abstract
Background: Pulmonary TB is one of the most common diseases that still have stigma from the social environment. It will lead a self-stigma for TB clients who have negatively impact on the delay in the enforcement of diagnosis and discontinuation of treatment prematurely.
Objective: The purpose of this study was determine the experience of self stigma by pulmonary TB clients who have a  treatment at the Puskesmas Malingping.
Methods: This research is a descriptive study. Sample were 31 pulmonary TB clients who get treatment at Puskesmas Malingping by using total sampling. Primary data collection used closed questionnaire then analyzed by using frequency distribution and percentage.
Results: The results showed that most respondents experienced mild self-stigma there are feelings of shame, fear, despair, restrictions on interaction, and the inability to solve problems.
Conclusion: Self stigma is still experienced by TB clients at varous level.
Keywords: Pulmonary tuberculosis, self stigma
Downloads
Download data is not yet available.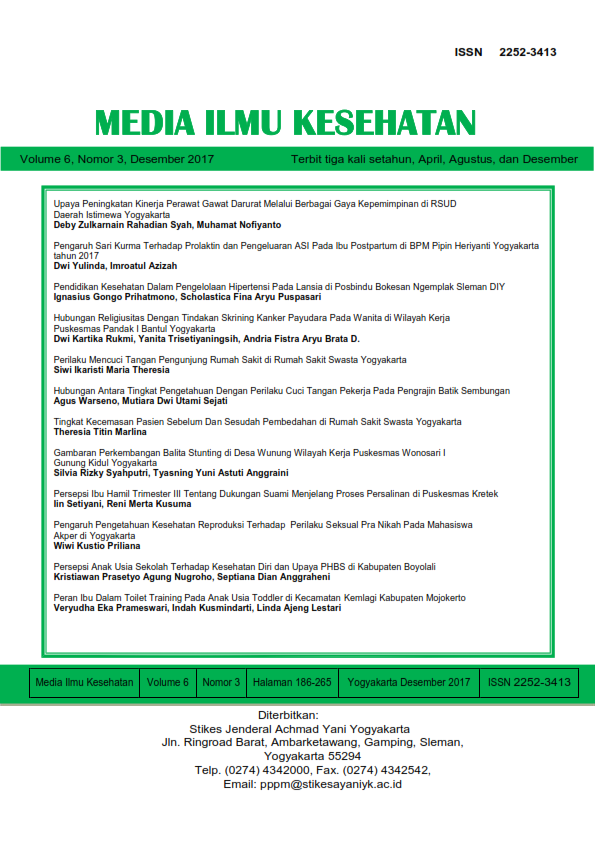 How to Cite
1.
Sari Y. GAMBARAN STIGMA DIRI KLIEN TUBERKULOSIS PARU (TB PARU) YANG MENJALANI PENGOBATAN DI PUSKESMAS MALINGPING [Internet]. Media Ilmu Kesehatan [Internet]. 30Apr.2018 [cited 22May2019];7(1):43-0. Available from: http://ejournal.unjaya.ac.id/index.php/mik/article/view/266